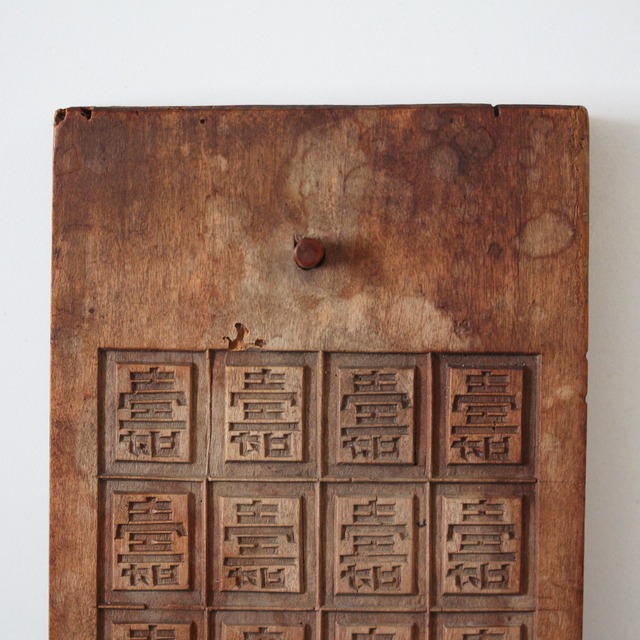 アンティーク 壽字尽くし菓子型(の一部)d30.9cm Antique Japanese Wooden Part of Wooden Confectionery Mold with Kotobuki Characters.
¥5,000 tax included
the last one
*This item will be delivered on 5/27(Fri) at the earliest.
Japan domestic shipping fees for purchases over ¥10,000 will be free.
Shipping fee is not included. More information.
落雁(干菓子)用の木型で「壽」文字の長方形が並んでいます。
おめでたい「壽」の文字で、おめでたい席で食されたお菓子だったのでしょう。
偶然でしょうか、興味深く感じたのは、木型に刻まれた文字は4×9となっていて、4も9も日本では避けられることの多い数字であることです。

本来はもう一枚の板と組み合わせて用いられたものですが、現在は失われています。

状態:割れ、虫喰い
径 30.9×10.1cm
厚さ 1.5cm(板)
重さ 約328g

木製
日本
明治~昭和時代 19~20世紀

An antique wooden cofectionary mold with kotobuki characters. Originally used with another part.

Wood
Japan
Meiji to Showa, 19th-20th C

Condition : A crack, scratches, chips.
d30.9×10.1cm h1.7cm

We ship worldwide. Please contact us for overseas shipping.
Add to Like via app
Reviews

(15)

Shipping method / fee

Payment method