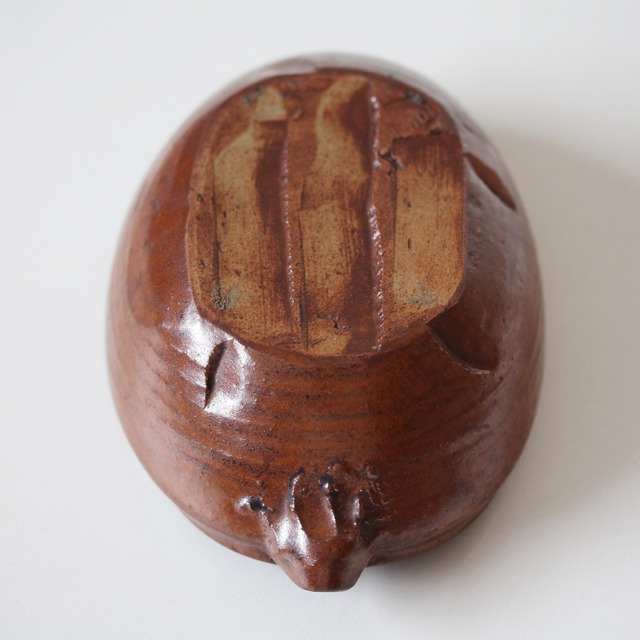 アンティーク 鉄釉の平らな片口鉢 d14.9cm Antique Japanese Iron Brown Glazed Katakuchi Bowl, Kosobe Ware(or Kyo Ware)
¥8,000 tax included
the last one
*This item will be delivered on 6/30(Thu) at the earliest.
Shipping fee is not included. More information.
楕円形の平らな片口です。
シンプルな鉄釉ながら内側に流れ落ちる釉垂れが景色となっています。
側面や底面の箆目跡もアクセントに。

底部に「磊」三角印。
大正から昭和にかけて活躍した京焼の陶芸家、河合磊三(かわい・らいぞう)による品です。

状態:完品です。
長径 14.9cm 
高さ 5.2cm
容量 約220ml
重さ 約163g

陶器
日本・古曽部(または京焼)・河合磊三
大正〜昭和時代 20世紀

A chariming ceramic oval katakuchi bowl in iron brown glaze. It is made by Kyo ware potter Kawai Raizo.

Ceramics
By Kawai Raizo, Kosobe(or Kyoto), Japan
Taisho to Showa. 20th C

Condition : Good
d14.9cm
h5.2cm

We ship worldwide. Please contact us for overseas shipping.
Add to Like via app
Reviews

(15)

Shipping method / fee

Payment method